HOW RENADYL™ WORKS
Renadyl™

establishes Kidney balance naturally. Natural Supplement for Kidney Health.

STEP 1: Take 2 Capsules per day
Take One (1) Capsule 2 Times a Day
STEP 2: Allow upto 3 months
Allow upto 3 months usage to reach maximum effectiveness
STEP 3: Re-Order
Re-Order your next 3 Months Supply
Give us 3 months, we give you HOPE
It is important to note that Renadyl™ should be used for a full 3 months to receive its full benefits. If, after 90 days, you are not satisfied, we will provide a full refund

Renadyl™ is
FULLY STABLE

without refrigeration
Renadyl™ is now FULLY STABLE without refrigeration for at least 2 WEEKS and maintains effectiveness without the need for cold shipping.
Upon receiving, please store Renadyl™ in your refrigerator between 39 – 45 ° F (4-8° C) to maintain maximum effectiveness. Do not freeze.
Find out how Renadyl™ can bring you new 
HOPE
For answers to your questions or concerns call us
1-888-271-2560 (US)

 or

 1-610-353-5130 (Intl.)
Renadyl™ | Natural supplement for Kidney Health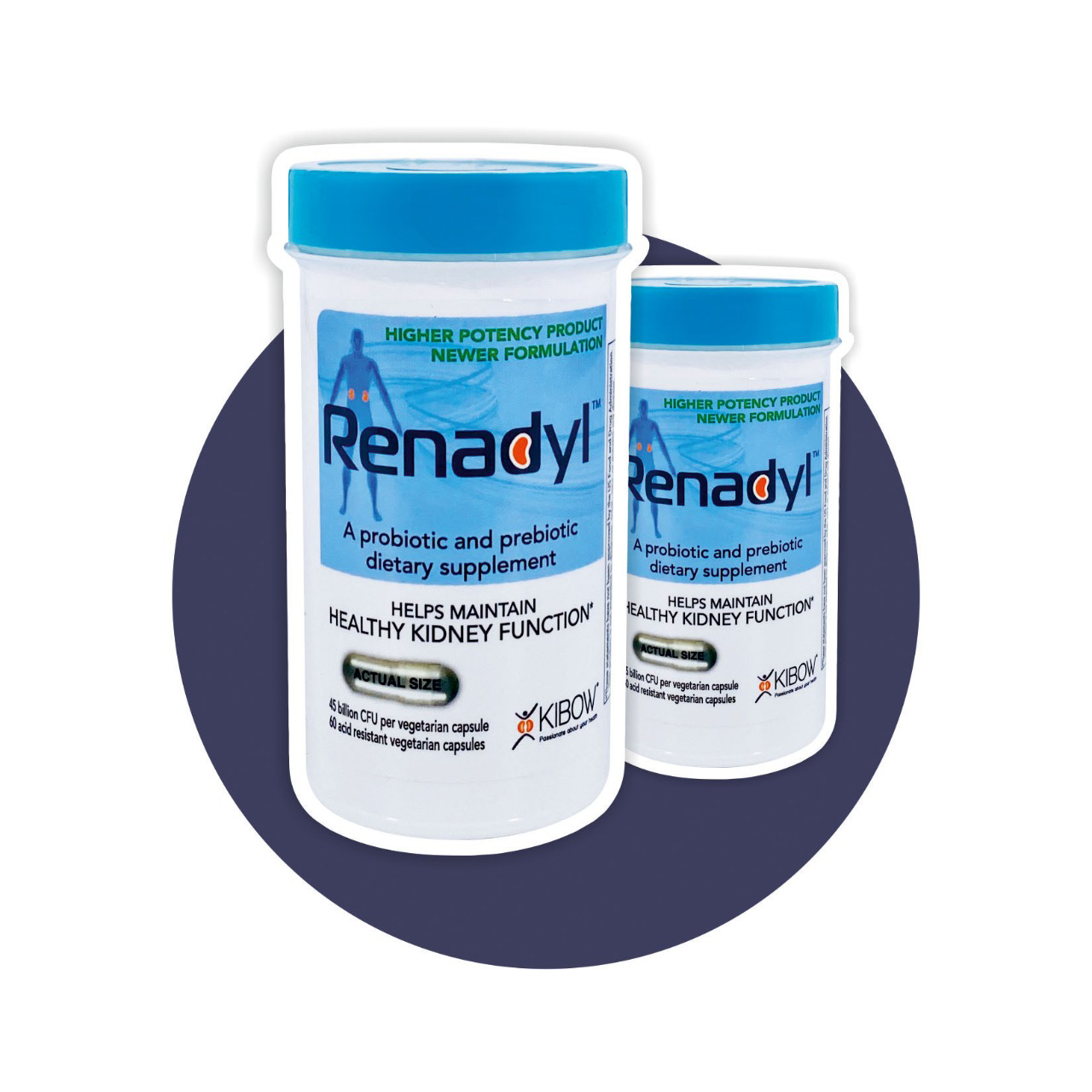 Renadyl™ is a patented and proprietary probiotics dietary supplement that has been scientifically formulated and clinically tested. Renadyl™ metabolizes nitrogenous waste that has diffused from the bloodstream into the bowel. Nitrogenous wastes are utilized by Renadyl™ as nutrients. As probiotics grow and multiply, they consume more nitrogenous waste and therefore effectively help maintain healthy kidney function. The nitrogenous metabolites are eliminated as solid waste/fecal matter. Renadyl as Kidney supplement for Chronic Kidney Problems / Disease – CKD
Note: The statements on this website and the products offered have not been evaluated by the US Food and Drug Administration. These products are not intended to diagnose, treat, cure or prevent any disease. Contents herein are being provided solely for the purpose of information. If you are pregnant, do not take any of our products listed herein. Also, please consult your physician or a qualified medical professional prior to taking this or any other dietary supplements or if you feel you have uremic, metabolic or related health conditions.