This content is for educational purposes only. It is not intended to be a substitute for professional medical advice, diagnosis, or treatment. Always seek the advice of your physician or other qualified healthcare providers with any questions you may have regarding a medical condition. Never disregard professional medical advice or delay in seeking it because of something you have read on this Website.
Limited-Time Special Offer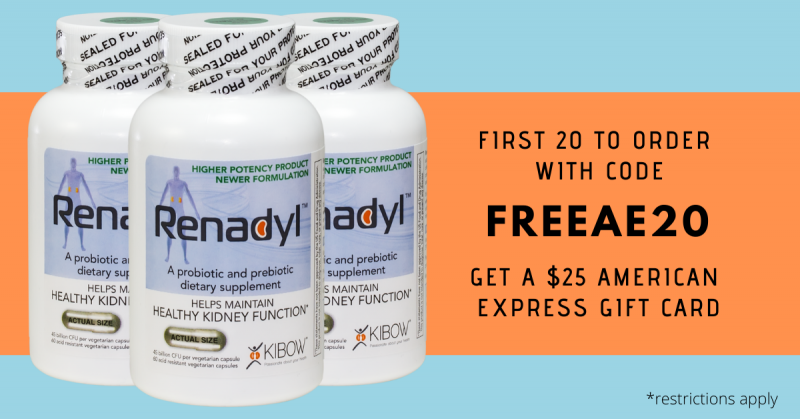 The first 20 people to order a three-pack of Renadyl™
will get a $25 American Express Gift Card in their order!*
---
What does Renadyl™ do?
Renadyl™ may maintain kidney health! How? Three clinical studies and years of research have shown that, when taken consistently, Renadyl™ may
Reduce creatinine and BUN levels*
Improve Quality of Life*
Stabilize eGFR*
How does it work?
Renadyl™ metabolizes nitrogenous waste that has diffused from the bloodstream into the bowel. Nitrogenous wastes are then utilized by Renadyl™ as nutrients. As probiotics grow and multiply, they consume more nitrogenous waste, which is eliminated during bowel movements.

---
Terms and Conditions Apply*
*Coupon code limited to the first 20 (new customers) that order a 3 pack of Renadyl™ and register their email at kibow.stores.com.
*We may, at any time, and at our sole discretion, modify these Terms and Conditions of Use, including our Privacy Policy, with or without notice to the User. Any such modification will be effective immediately upon public posting. Your continued use of our Service and this Site following any such modification constitutes your acceptance of these modified Terms.